"My Daughter LOVES these towels. They're Extra large, Dry Super Quickly, literally sand proof, and so cute. Had to get my son one too!"
DON'T WANT TO PAY FULL PRICE?

Code "TRIO" - 5% off 3 products
Code "CLAN" - 10% off 4 products
Code "EPIC" - 15% off 6 products
Get an extra 20% off with Group Orders over $500 (CODE: SHARETHEFUN)

Offers and Pro
Free Shipping

FREE STANDARD SHIPPING on all orders over $50 - offer valid Contiguous USA
Flat rate fee $7.95 for orders under $50 Contiguous USA
We offer US delivery with USPS and UPS. 
We aim to get your order processed and dispatched within two business day. 
Product Description

Sand Proof - sand doesn't stick to microfiber!
Quick Dry - dries 3 times faster than a regular cotton towel.
Travel Friendly because it's so lightweight and compact.
Super Absorbent - makes it the perfect swim towel.
Completely Odorless - doesn't collect damp smells.
Double-Sided Patterns - have twice the fun!
Travel Pouch Included
60 in x 30 in

Perfect For: the bath, beach, yoga, camping, and gym
Care Guide

For best results, stick to mild liquid detergent, cold water (after the first few washes it's ok to turn up the heat)and keep like colors together.When it comes time for drying, air drying using the attached hanging loop is ideal but if needed you can choose a low temperature setting on the tumble dryer.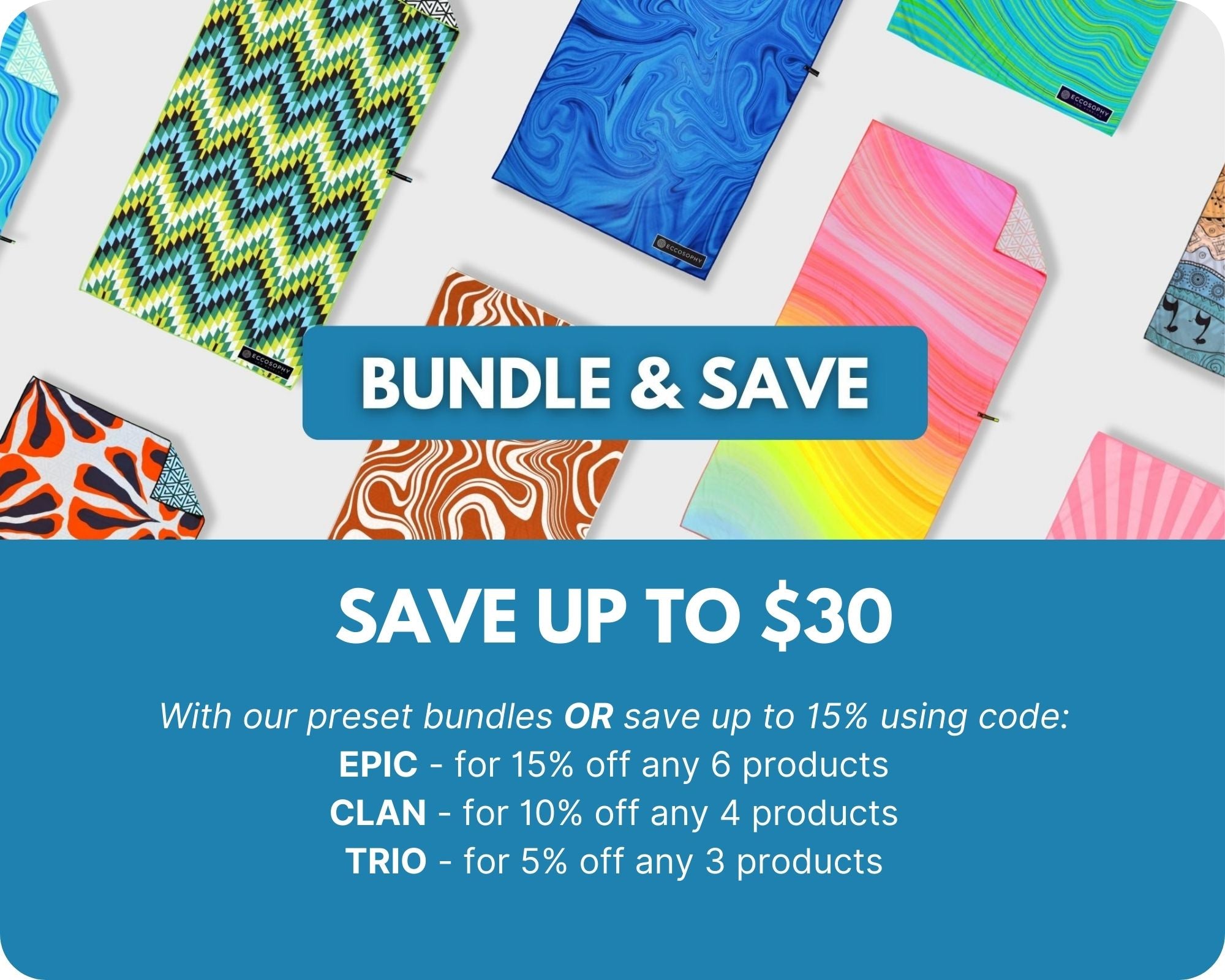 The Perfect Gift
Give the gift of convenience with a microfiber towel! Whether it's for your adventure-crazy pals, kids, or mom, this pretty package is sure to stun.

Always At The Ready
Forget Stinky towels and upgrade to Quick Dry microfiber! They dry 3x faster than standard cotton, so you can save time between dips. Plus, no more funky smells - it's a win-win.

Small But Mighty
Don't let the compact, lightweight design fool you - it packs more water than you thought possible!

No Sand, No Mess
Wave goodbye to sandy messes forever with a microfiber towel - no pesky grains sticking around! Get ready for a perfectly sand-free experience.

Space Savers
Compact and lightweight travel friendly towels that will never weigh you down or cramp your style.

Smart
Our towels are smartly designed with a snap button hanging loop for effortless air-drying. Plus, you'll never have to guess how to take care of them, washing instructions conveniently printed right on the loop.

Sassy
They come in double sided prints because life is meant to be interesting ALL the time. 

Versatile and Dependable
Whether you're headed to the pool, camping in the woods, doing yoga or at your local park, microfiber towels are a must-have for any outdoor enthusiast!  

The Ultimate Towel
Soft to the touch and gentle on the skin these towels are ideal for home use too. Shower ready and bath time perfect. Your new microfiber towel is eager to deliver. 
ADDED BONUS
Handy travel pouch included.